Description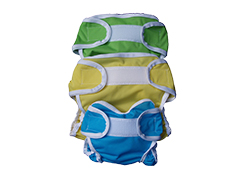 Limited Availability
Medium, Large, Extra Large in snaps
Large, and Extra Large Velcro White
Call to inquire please.  Prowrap is no longer manufacturing covers.
The Prorap Classic Diaper Cover is made from a soft polyester knit with a leak-proof urethane barrier. This is one of the few diaper covers you will find with gussets. Gussets are extra material around the leg openings designed to stop leaks. The Prorap Classic features waterproof institutional "laundry safe" hook and loop (Velcro) closures. True Selvage Hook and Loop.
The Velcro loop extends across the tummy to give you a great fit. The Prorap Classic has material above the loop section to prevent scratching. It features elastic across the back to provide a snug fit around the waist. Another great feature of the Prorap Classic is that it has an umbilical scoop on the newborn size.
Wash the covers in cold or warm water.  It is best to close the Velcro and turn the covers inside out to ensure the best cleaning possible or purchase our new Prorap Classic Plus Cover which has Velcro lay down tabs for laundering.
Soft knit outer material
Double gusset prevents leaks around legs
Leak Proof Lining
Knit provides snug, comfortable fit
Wide attachment strip adjusts to growing baby
Made in the USA